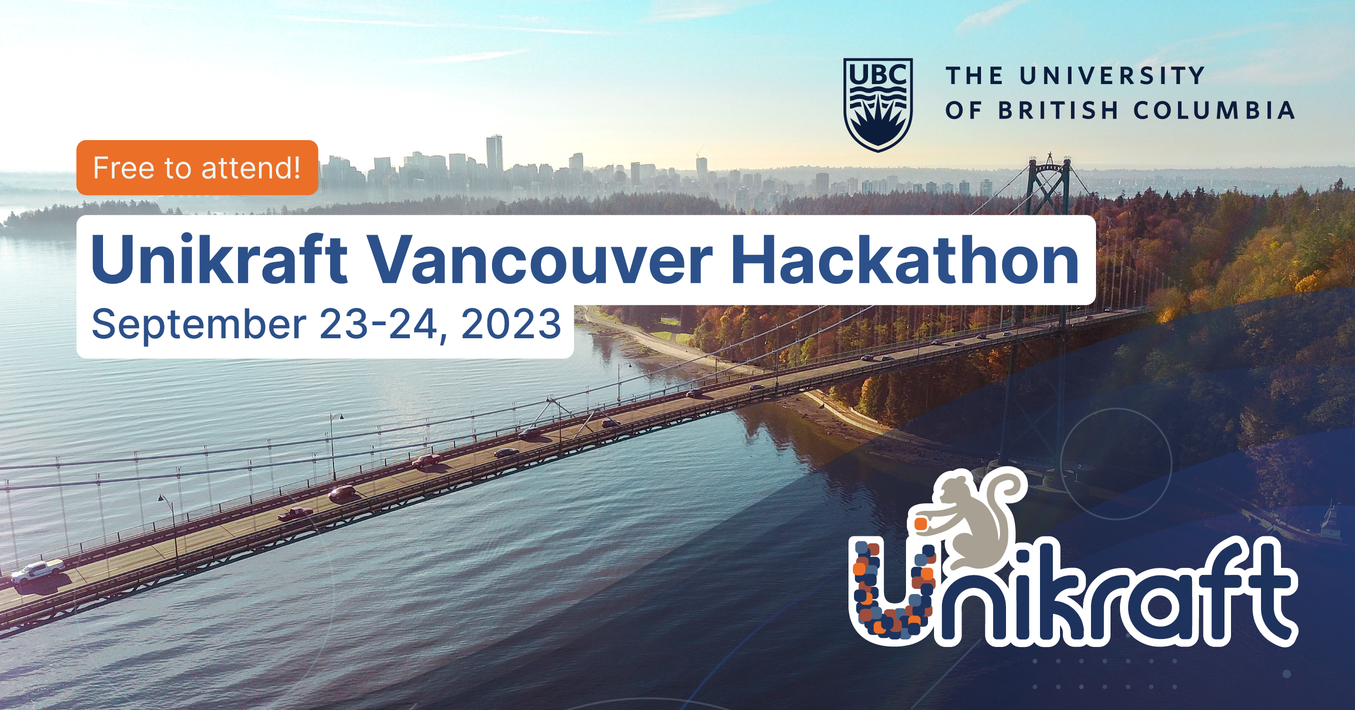 Vancouver 2023
Vancouver Unikraft Hackathon, September 23-24, 2023
Unikraft and Systopia Lab at University of British Columbia (UBC) come together to organize the Vancouver Unikraft Hackathon to be held on Saturday and Sunday, September 23-24, 2023.
The hackathon will take place as an in-person event at Room 2020, Fred Kaiser Building, Point Grey Campus and online, on Discord, on the #hack-vancouver23 channel. The full address is: Fred Kaiser Building, 2332 Main Mall, Vancouver, BC V6T 1Z4, Canada.
Support information and discussions will take place on Discord, on the #hack-vancouver23 channel.
Registration
#
To take part in the hackathon please fill this registration form by Sunday, September 17, 2023, 11pm PDT.
Requirements
#
Please bring your own laptop. It's best if you have a native Linux installed on your laptop. Otherwise, please install this virtual machine. Use VMware Workstation Player or VirtualBox or any other virtualization solution able to load an OVA image.
For the virtual machine, login with username unikraft and password unikraft. Make sure you have a working networking connection inside the virtual machine.
Either on your native Linux install, or on your virtual machine, install the basic set of tools detailed in the "Overview" guide.
People
#
The hosts of the hackathon are:
As part of the Unikraft community, Răzvan Deaconescu and Ștefan Jumărea will be on-site, with other community members providing support online, on Discord.
Schedule
#
Saturday, September 23, 2023
#
Sunday, September 24, 2023
#
| Time (PDT) | Session |
| --- | --- |
| 10:00 - 10:15 | Overview of Hackathon Challenges |
| 10:15 - 11:30 | Work on Hackathon Challenges |
| 11:30 - 11:45 | Break |
| 11:45 - 12:45 | Work on Hackathon Challenges |
| 12:45 - 14:00 | Lunch |
| 14:00 - 17:30 | Work on Hackathon Challenges |
| 16:30 - 17:30 | Guest Talks |
| 17:30 - 17:45 | Results, Final Remarks |