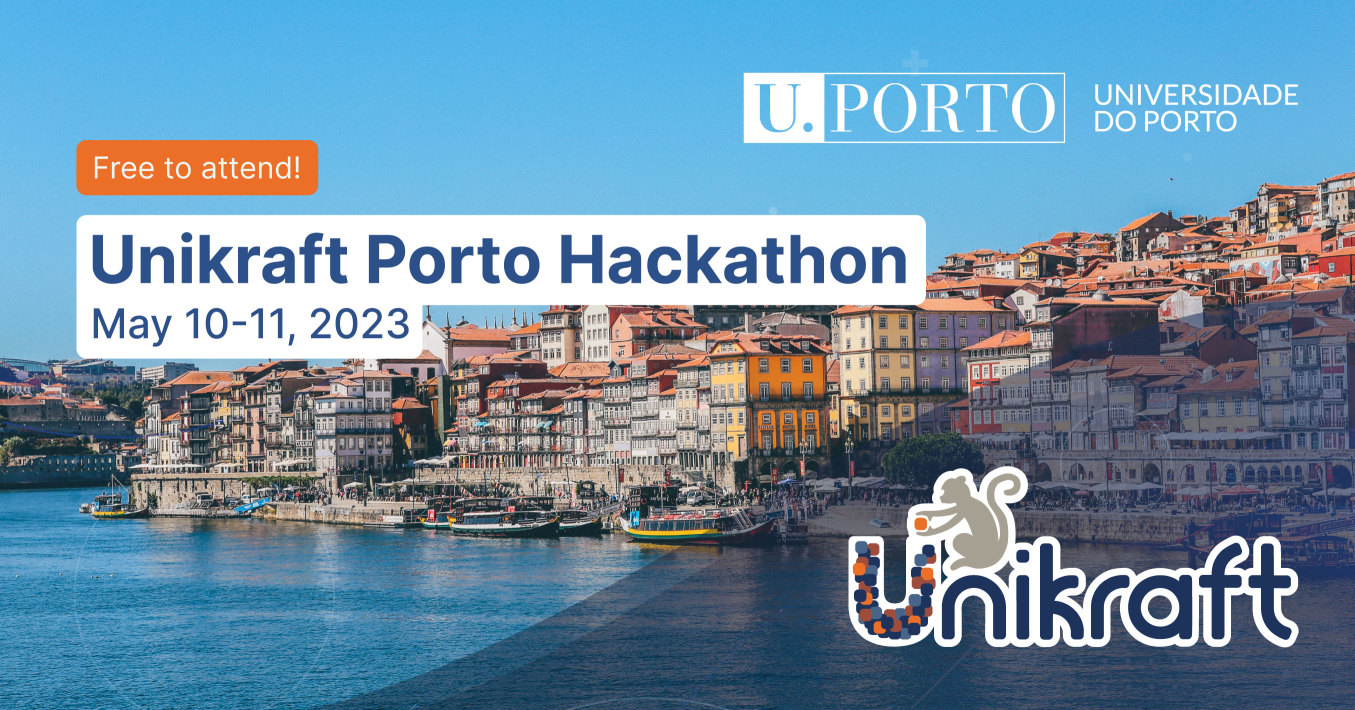 Porto 2023
Porto Unikraft Hackathon, May 10-11, 2023
Unikraft, Faculdade de Engenharia Universidade do Porto and University of Porto Faculty of Engineering ACM Student Chapter come together to organize the Unikraft Porto Hackathon to be held on Wednesday and Thursday, May 10-11, 2023.
The hackathon will take place as an in-person event at Faculdade de Engenharia Universidade do Porto. The full address is: Rua Dr. Roberto Frias, s/n, 4200-465 Porto, Portugal.
Support information and discussions will take place on Discord on the #hack-porto23 channel.
Registration
#
To take part in the hackathon please fill this registration form by Thursday, May 4, 2023, 11pm WEST.
Please bring your own laptop. It's best if you have a native Linux installed on your laptop. Otherwise, please install this virtual machine.
People
#
The hosts of the hackathon are:
As part of the Unikraft community, Ștefan Jumărea and Edi Vintilă will be present on-site, with other community members providing support online, on Discord.
Schedule
#
Wednesday, May 10, 2023
#
| Time (WEST) | Session |
| --- | --- |
| 10:00 - 10:15 | Overview of Unikernels and Unikraft |
| 10:15 - 11:15 | Introduction to Unikraft: Building and Running Standard Applications |
| 11:15 - 11:30 | Break |
| 11:30 - 12:45 | Unikraft Internals: Building, Configuring, Using Libraries |
| 12:45 - 14:00 | Lunch |
| 14:00 - 15:00 | Running (Complex) Applications in Unikraft |
| 15:00 - 16:00 | Porting Applications to Unikraft |
| 16:00 - 16:15 | Break |
| 16:15 - 17:45 | Porting Applications to Unikraft |
Thursday, May 11, 2023
#
| Time (WEST) | Session |
| --- | --- |
| 10:00 - 10:15 | Overview of Hackathon Challenges |
| 10:15 - 11:30 | Work on Hackathon Challenges |
| 11:30 - 11:45 | Break |
| 11:45 - 12:45 | Work on Hackathon Challenges |
| 12:45 - 14:00 | Lunch |
| 14:00 - 17:30 | Work on Hackathon Challenges |
| 17:30 - 17:45 | Results, Final Remarks |