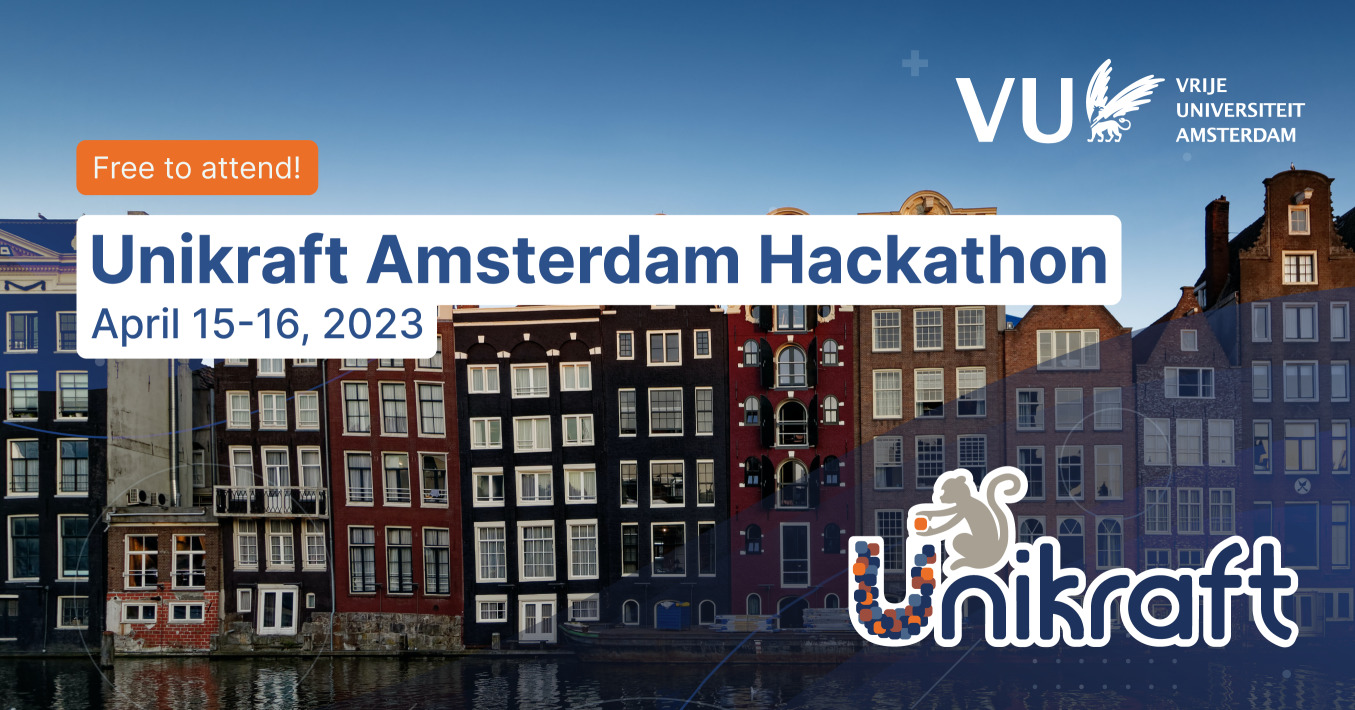 Amsterdam 2023
Amsterdam Unikraft Hackathon, April 15-16, 2023
Unikraft, Vrije Universiteit Amsterdam (VUA) and VUSec come together to organize the Unikraft Amsterdam Hackathon to be held on Saturday and Sunday, April 15-16, 2023.
The hackathon will take place as an in-person event at the "NU" building in the VUA campus. The full address is: NU building, De Boelelaan 1111, 1081 HV, Amsterdam, The Netherlands.
Support information and discussions will take place on Discord on the #hack-amsterdam23 channel.
Registration
#
To take part in the hackathon please fill this registration form by Sunday, April 9, 2023, 11pm CET.
Please bring your own laptop. It's best if you have a native Linux installed on your laptop. Otherwise, please install this virtual machine.
People
#
The hosts of the hackathon are:
As part of the Unikraft community, Răzvan Deaconescu and Hugo Lefeuvre will be on-site, with other community members providing support online, on Discord.
Schedule
#
Saturday, April 15, 2023
#
Time (CET)
Session
Presenter
10:00 - 10:15
Overview of Unikernels and Unikraft
Răzvan Deaconescu
10:15 - 11:15
Introduction to Unikraft
Hugo Lefeuvre
11:15 - 11:30
Break
11:30 - 12:45
Unikraft Internals
Răzvan Deaconescu
12:45 - 14:00
Lunch
14:00 - 15:00
Running (Complex) Applications in Unikraft
Hugo Lefeuvre
15:00 - 16:00
Porting Applications to Unikraft
Răzvan Deaconescu
16:00 - 16:15
Break
16:00 - 17:00
Porting Applications to Unikraft
Răzvan Deaconescu
17:00 - 17:45
Guest Talk: DangZero
Guest Talk: Rowhammer Attacks and Defenses
Floris Gorter
Andrei Tatar
Sunday, April 16, 2023
#
Time (CET)
Session
Presenter
10:00 - 10:15
Overview of Hackathon Challenges
10:15 - 11:30
Work on Hackathon Challenges
11:30 - 11:45
Break
11:45 - 12:45
Work on Hackathon Challenges
12:45 - 14:00
Lunch
14:00 - 14:45
Guest Talk: Quarantine Project
CoF (Rowhammer Defense)
Manuel Wiesinger / Mathe Hertogh
Andrea Di Dio
14:45 - 17:30
Work on Hackathon Challenges
17:30 - 17:45
Results, Final Remarks