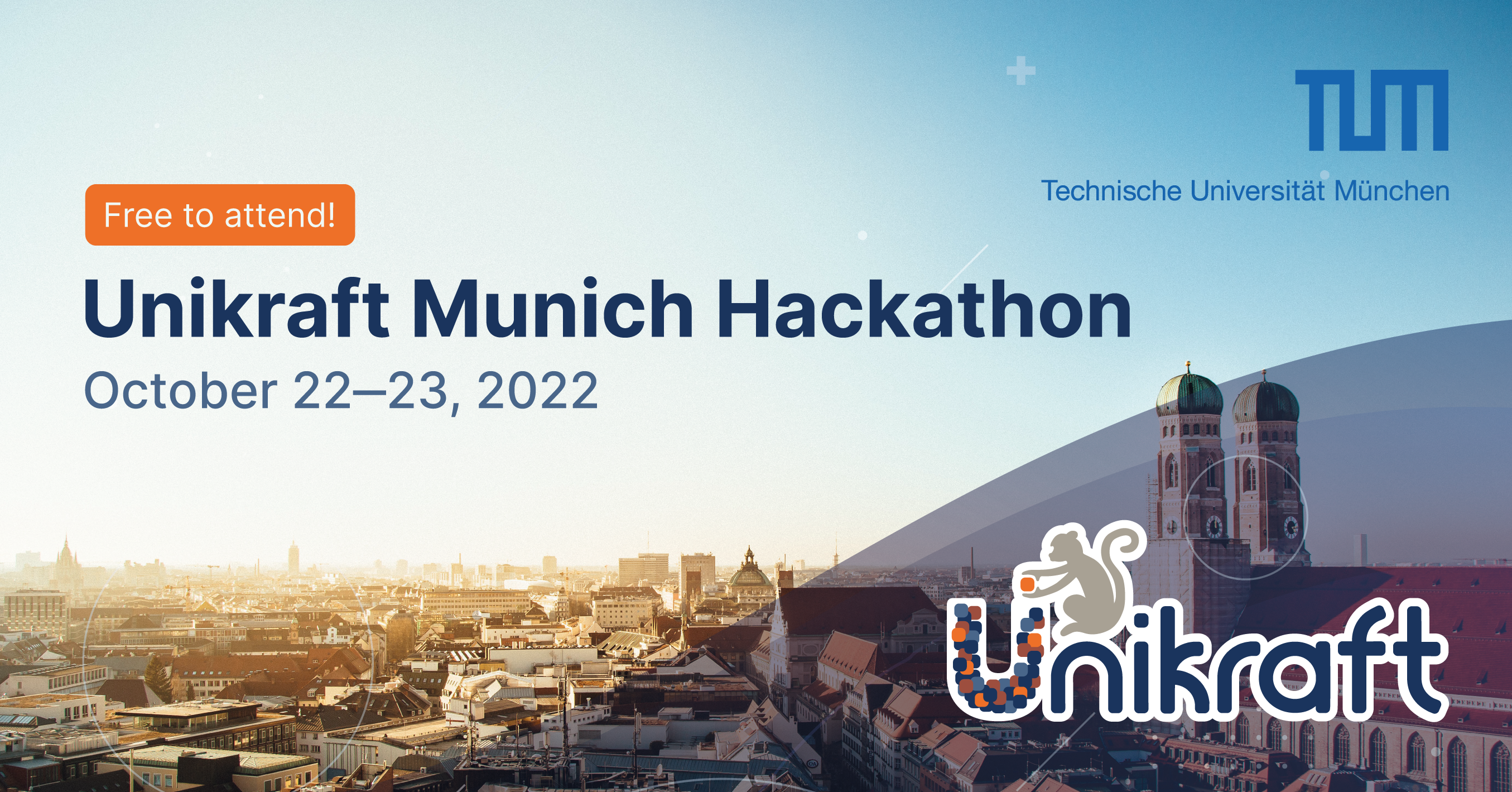 Munich 2022
Munich Unikraft Hackathon, October 22-23, 2022
Unikraft and Technical University of Munich come together to organize the Unikraft Munich Hackathon to be held Saturday and Sunday, October 22-23, 2022. The hackathon will take place face-to-face at TU Munich, in Lecture Hall 2 of the Department of Informatics.
Address is Boltzmannstr. 3, 85748 Garching bei München. Lecture Hall 2 is located in the ground floor of the building, with a capacity of 100 people. Please see this map of the building with the location of Lecture Hall 2.
Support information and discussions will take place on Discord on the #hack-munich22 channel.
Registration
#
To take part in the hackathon please fill this registration form by Friday, October 14, 2022, 11am CEST.
People
#
The hackathon will take place at the TU Munich. We'll provide the detailed address soon.
The host of the hackathon are:
As part of the Unikraft community Răzvan Deaconescu (UPB) and Radu Nichita will be present onsite with other community members providing support online, on Discord.
Schedule
#
Saturday, October 22, 2022
#
| Time (CET) | Session | Presenter |
| --- | --- | --- |
| 10:00 - 10:15 | High-level presentation of unikernels and Unikraft | Răzvan Deaconescu |
| 10:15 - 11:15 | Introduction to Unikraft. First steps in configuring, building | Radu Nichita |
| 11:15 - 11:30 | Break | |
| 11:30 - 12:45 | Inside Unikraft: Building, configuring, using different libraries | Răzvan Deaconescu |
| 12:45 - 14:00 | Lunch | |
| 14:00 - 15:00 | Debugging in Unikraft | Răzvan Deaconescu |
| 15:00 - 16:00 | Running (Complex) Application in Unikraft | Radu Nichita |
| 16:00 - 16:15 | Break | |
| 16:15 - 16:30 | Lightweight and extensible unikernels | Masanori Misono |
| 16:30 - 16:45 | Unikernels for FPGAs | Atsushi Koshiba |
| 16:45 - 17:00 | Nested acceleration with unikernels | Charalampos Mainas |
| 17:00 - 17:30 | Lightweight virtualization | Peter Okelmann |
Sunday, October 23, 2022
#
| Time (CET) | Session |
| --- | --- |
| 10:00 - 10:15 | Overview of hackathon challenges |
| 10:15 - 11:30 | Tutorial on porting applications |
| 11:30 - 11:45 | Break |
| 11:45 - 12:45 | Work on hackathon challenges |
| 12:45 - 14:00 | Lunch |
| 14:00 - 17:30 | Work on hackathon challenges |
| 17:30 - 17:45 | Results, final remarks |