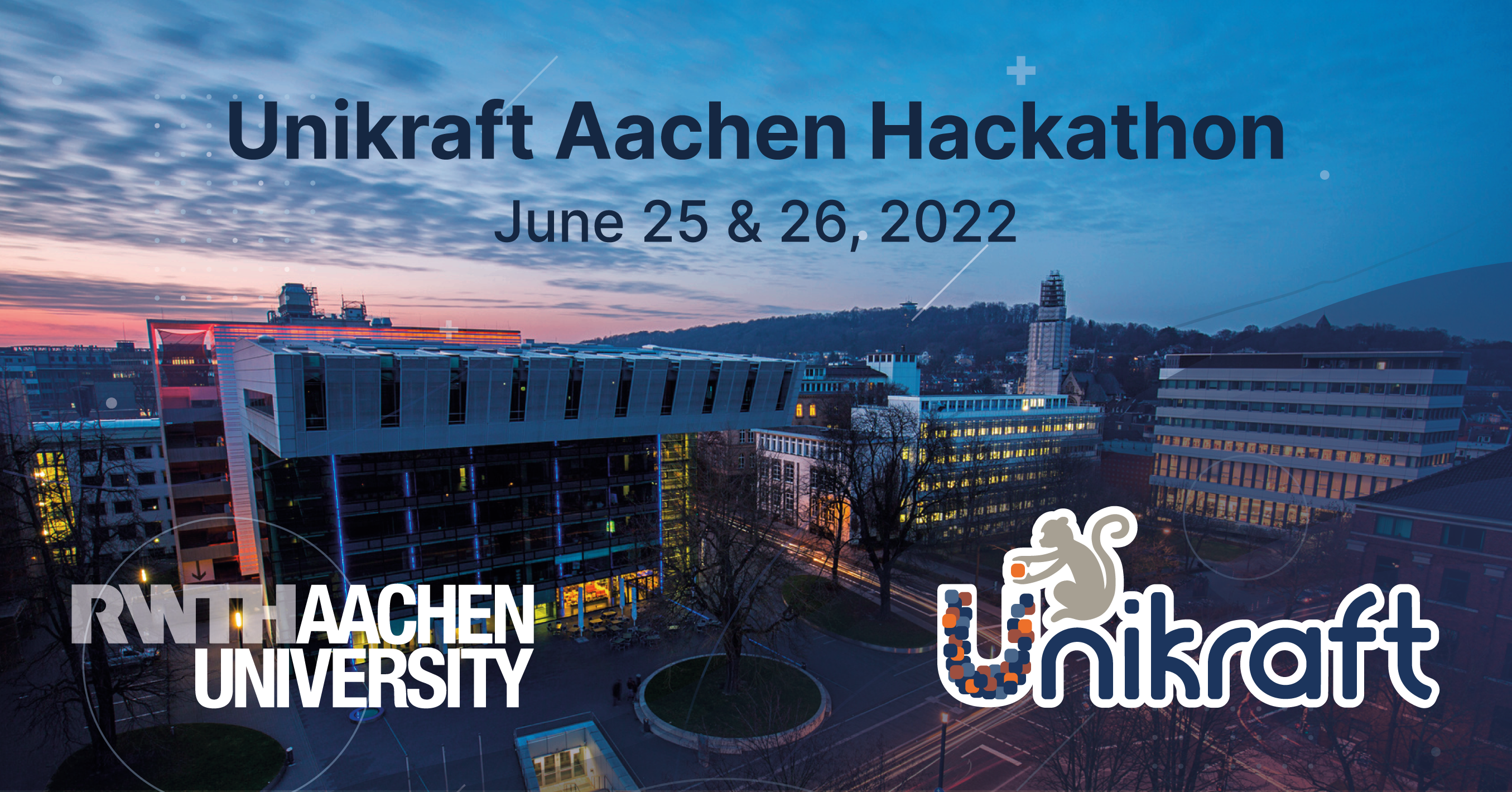 Aachen 2022
Aachen Unikraft Hackathon, June 25-26, 2022
Unikraft and Rheinisch-Westfälische Technische Hochschule Aachen (RWTH Aachen University) come together to organize the Unikraft Aachen Hackathon to be held Saturday and Sunday, June 25-26, 2022. The hackathon will take place face-to-face at RWTH Aachen.
Registration
#
To take part in the hackathon please fill this registration form.
People
#
The hackathon will take place at the RWTH Aachen: Room 00.24, Main Building, E.ON Energy Research Center, RWTH Aachen University, Mathieustraße 10, 52074 Aachen, Germany. See the address Google Maps.
The host of the hackathon is Stefan Lankes.
As part of the Unikraft community Răzvan Deaconescu (UPB) will be present on-site for the hackathon. Other members of the Unikraft community will provide online support on Discord.
Schedule
#
Saturday, June 25, 2022
| Time (CET) | Session |
| --- | --- |
| 10:00 - 10:15 | High-level presentation of unikernels and Unikraft |
| 10:15 - 11:15 | Introduction to Unikraft. First steps in configuring, building |
| 11:15 - 11:30 | Break |
| 11:30 - 12:45 | Inside Unikraft: Building, configuring, using different libraries |
| 12:45 - 14:00 | Lunch |
| 14:00 - 15:00 | Debugging in Unikraft |
| 15:00 - 16:00 | Running (Complex) Application in Unikraft |
| 16:00 - 16:15 | Break |
| 16:15 - 17:30 | RustyHermit |
Sunday, June 26, 2022
| Time (CET) | Session |
| --- | --- |
| 10:00 - 09:15 | Overview of hackathon challenges |
| 10:15 - 11:30 | Tutorial on porting applications |
| 11:30 - 11:45 | Break |
| 11:45 - 12:45 | Work on hackathon challenges |
| 12:45 - 14:00 | Lunch |
| 14:00 - 17:30 | Work on hackathon challenges |
| 17:30 - 17:45 | Results, final remarks |